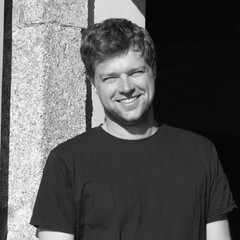 David Ronnes
Senior Marketing Artist at Flix Int. (RARE - Xbox Studios)
Dublin, Ireland
About
I'm David Ronnes, currently working as a CG Environmental Modeller at Giant Animation.
Originally from the Netherlands, I have been working in animation for the last four years in both Austria and Ireland. In 2016, I graduated from the Digital Animation and Visual Effects School at Universal Studios, Florida USA.
I am proficient in primary tools such as Maya, Substance Painter/Designer, Photoshop, ZBrush and always looking to learn new ones.
I love my work and feel lucky that as a 3D artist I get to help drive the future of how content is created and perceived globally.
Skills
Compositing
Matte Painting
3D Modeling
Digital Sculpting
Environment Modeling
Hard Surface Modeling
Rigging
Texturing
Software proficiency
Unreal Engine

Maya

ZBrush

Substance 3D Painter

Substance 3D Designer

Photoshop

SpeedTree

Modo

Mari

Nuke

After Effects

Illustrator

InDesign
Reel
Productions
Video Game

Sea of Thieves: A Pirates's Life

Year

2021

Role

Senior Marketing Artist

Company

Flix Interactive (RARE - Microsoft/Xbox Studios)

Movie

My Little Pony: A New Generation

Year

2021

Role

Senior Environment Modeler

Company

Boulder Media
Experience
Responsible for creating key art, achievement art, loading screens and more for Sea of Thieves: A Pirate's Life and Seasonal updates.

Supporting the web team and UI to improve the visual branding of Sea of Thieves.

Next to my daily tasks that I had as a Senior CG Environmental Modeller, I had the responsibility of Acting Asset Supervisor. Providing on-going feedback and

mentoring to other artists, I attended senior supervisor meetings to discuss our preferred

approach to specific design challenges.

Working on a feature film of a famous Hasbro brand.

• Modeling 3D assets, following the style and overall visual of the concept art (Maya, Zbrush, SpeedTree)

• Modeling 3D assets, following the style and overall visual of the concept art (Modo and Maya)

• Rigging of created assets to be used further in the production pipeline (Maya)

• Texturing the assets to match the style of the show and what the clients requests (Photoshop and Mudbox)

Motion graphic designer. Redesign of the TV station RTL 7.